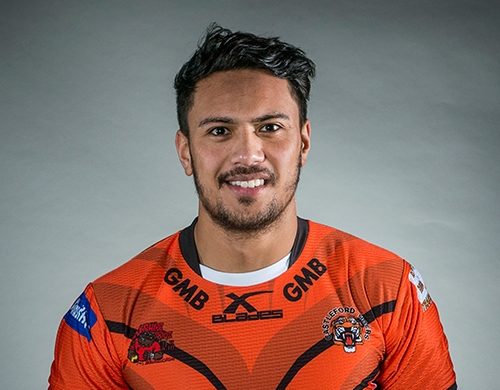 The Rugby Football League has announced that a satisfactory resolution has been reached between Castleford Tigers and Sale Sharks over the unapproved transfer of Denny Solomona.
Castleford Tigers will receive in excess of £200,000 in compensation and recover approximately £100,000 in legal costs from the defendants.
The Super League club sued the player, his agent Andy Clarke and Premiership club, Sale Sharks after the player "retired" from rugby league within the currency of his contract with Castleford and took up an offer to join the rugby union club late last year.
Sale Sharks were reported to have broken off discussions regarding compensation for the transfer of the player because Castleford's demands were too high.
An RFL press release said: "This was a matter of profound importance for sport and Castleford deserve huge credit for their dignity, integrity and tenacity. Their conduct has been exemplary and they have been consistent in their position at all times."
RFL chief executive, Nigel Wood, said: "Castleford have been resilient and professional throughout this entire process and the Rugby Football League and other member clubs have always fully supported them in defending a position that we believe is right and just. To their further credit, they have not bowed to pressure to ensure the truth of what happened could be fully exposed. They have done the whole of sport a great service.
"It is incredibly regrettable that this situation ever arose and we believe that National Governing Bodies from all sports and leagues must work together to ensure that clubs and players are protected and contracts are respected by all concerned. The Rugby Football League has very recently worked closely on a reciprocal basis with the NRL in the cases of James Segayaro and Ben Barba to ensure that registration of playing contracts and disciplinary decisions are respected on a mutual basis, which is surely how it should be."
Meanwhile, Sale Sharks claim to be delighted that the court case with Castleford Tigers has been resolved on favourable terms.
A club statement said: "The settlement sum accepted by Castleford is effectively the same £200,000 figure initially offered by Sale last year, with a small amount added for interest. Given that a potentially sizeable proportion of the legal costs may not be recoverable from Sale, it is inevitable that Castleford's net position will be significantly lower than that £200,000 figure offered last year."
Less delighted in their criticism of Castleford's handling of the dispute: "The last 10 months have therefore been nothing more than an unnecessary distraction, and the court case has achieved nothing other than wasted time and legal fees for all involved. Castleford issued proceedings prematurely, in a hail of publicity, seeking in excess of £500,000 damages and with a purported desire to fight this case for the good of Rugby League. This settlement proves that this was not the case. There has been no ruling at all and this case does not set a precedent for future dealings between Rugby League and Rugby Union. If that was Castleford's desire, they have failed to provide any clarity at all for other Rugby League clubs, which suggests that their primary, if not only, motivation was to get monetary compensation. Even so, they will receive approximately 40% of the sum they hoped for."
https://aragents.co.uk/wp-content/uploads/2017/07/denny-solomona.jpg
500
500
Dave Williams
http://aragents.co.uk/wp-content/uploads/2014/05/ARA-3402-300x167.png
Dave Williams
2017-06-23 14:37:05
2017-07-07 14:38:51
Tigers Settle For £200k For Solomona From Sharks